Architectural Visualization: Multi-Use Office and Events Building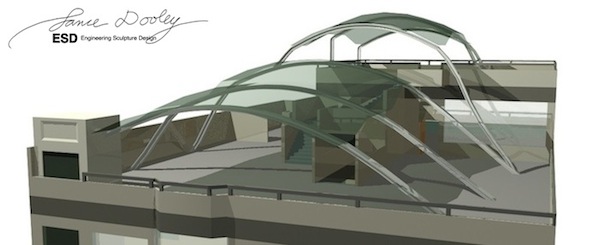 ---
Title: Multi-Use Office and Events Building
Project: PYBUS ANNEX design competition
Designer: Lance Dooley ESD Engineering Sculpture Design

This design is a mix of rentable office and entertainment space, spanning four covered floors, an active roof top space, and an observation deck. The building is partially covered by a modern looking permanent transparent hard canopy that is supported by steel I-beams resonating with steel industry legacy of the area.


South East perspective view and with longitudinal cut-out.
Access to the Main Events Hall on the ground floor is done via a large sliding wall. With eighteen-foot high ceilings throughout the ground floor, large crowds can be catered to easily. An administration office is connected to the Main Events Hall via a storage room. All of the ground floor rooms and elevator are conjoined by a 3,000 square foot foyer, which doubles as an Open Exhibition Space.
The large sliding wall theme continues with the Small Events Hall on the second floor, which also contains an Art Gallery and Large Meeting Room. The third and fourth floors house rentable office spaces of varying sizes and a medium sized space for a merchant or vendor. The open roof top space and the internal Osprey Room, with its 12-foot high ceiling and massive windows, provide entertainment space with a view. Crowning the building is the Osprey Deck, offering 360-degree territorial views.


Floor Plans for every level.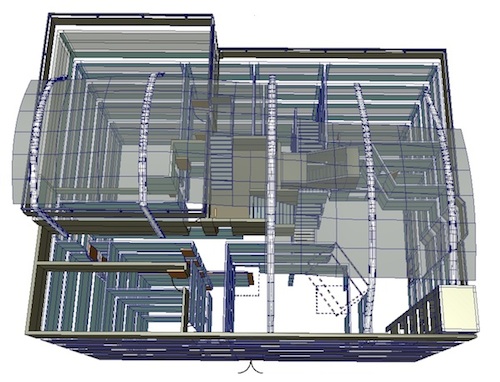 High aerial x-ray view as seen from the west, interstitial space omitted.
---
For more info, contact Lance Dooley at: lance@lancedooley.com

Visit the main web page: www.lancedooley.com